FAQS
HOW DO I EXPERIENCE THE SHOW WITH SOMEONE ELSE?
---
You will both need to download the app, enter a code and join the event on your individual devices with headphones. When the show begins you will receive further instruction. Make sure you have purchased one code per person for the same session time. If you are joining from different time zones, you should purchase two codes from only one time zone.
---
DOES IT MATTER WHERE I AM IN THE WORLD?
---
You can join a show from anywhere in the world - just select the country that has the time zone most suitable for you.
---
WHAT CAN I DO TO ENSURE I HAVE THE BEST EXPERIENCE?
---
Click here for assistance converting your time zone.
Follow the instructions in the email, or within the audio. They may require you to sit in a specific environment e.g. a kitchen at a table.
Close all other apps and turn off your VPN.
Put your phone in 'Do Not Disturb' mode.
Do NOT put your phone into airplane mode - you need an internet connection for the show to run.
The minimum sytem requirements are iPhone 6 running iOS 12.4 or Android 6 or above.
---
WHAT IS DARKFIELD RADIO ?
---
DARKFIELD RADIO broadcasts immersive audio experiences via the DARKFIELD RADIO Mobile App. Each show immerses audiences in DARKFIELD'S signature 360 degree sound in their own headphones, introducing unfamiliar characters into the familiar spaces we inhabit. you can find more info here
---
DO I NEED TO BE CONNECTED TO THE INTERNET?
---
Yes - you need to be connected to the internet to experience the show. Do not put your phone into airplane mode.
---
CAN I DO DARKFIELD RADIO EXPERIENCES SOLO?
---
DOUBLE has been created for two people to experience together, across a kitchen table from one another. We recommend it be experienced this way, however if you are solo it can work if you video call a friend and place them across the table from you, as long as you can fully see one another. This will have to be done via a laptop as the phone is required for the experience. We do strongly recommend you try and experience it physically with someone for maximum effect. VISITORS cannot be experienced alone. ETERNAL is for one person, alone in their bed. KNOT is for one person, taking place in three different locations.
---
MY SHOW IS OUTSIDE - WHAT IF IT'S RAINING?
---
Shows can be done indoors in your home if it is raining - please recreate the set up of a bench or car at home, with space next to you and behind you.
---
DO YOU GIVE REFUNDS?
---
All tickets are non-refundable. If your enjoyment of the performance is in any way compromised due to the malfunctioning of the Darkfield Radio App, we will book you into an alternative show. You can find our full terms and conditions here.
---
KNOT HAS AN EPISODE LOCATED ON A BENCH AND IN A CAR - WHAT IF I DON'T HAVE ACCESS TO A BENCH OR CAR, OR DON'T FEEL SAFE?
---
Shows can be done indoors in your home if you can't do them outside - please recreate the set up of a bench or car at home, with space next to you and behind you.
---
---
TROUBLE SHOOTING
WHAT CAN I DO IF I AM HAVING ISSUES?
---
If you are experiencing issues, please try the following:
Check for a solid internet connection
Turn off VPN if you have one
Close all other apps
Restart the Darkfield Radio app
Restart the phone
Check device memory is not at capacity
If you have an Android phone please go to app settings > Darkfield Radio > clear cache
If non of the above resolve the technical issue, delete and reinstall the app, then contact us for replacement codes.
---
MY CODES ARE NOT WORKING?
---
The codes will only become active 24 hours before your show time. If you are having problems and its less than 12 hours before your show, please contact us as soon as possible and we will assist you.
---
HOW TO CHECK YOUR DEVICE IS LOADED PROPERLY
---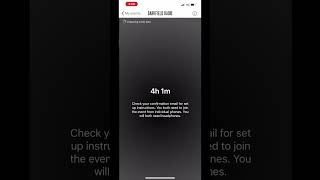 ---
---